As part of my ongoing certification I recently achieved the Microsoft Solutions Developer Windows Store Apps using HTML5 certification.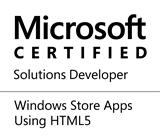 I am now entitled to deliver the official trainings from the Microsoft Official Curriculum such as:
Programming in HTML5 with JavaScript and CSS
Essentials of Developing Windows Store Apps Using HTML5 and JavaScript
Advanced Windows Store App Development Using HTML5 and JavaScript
If you are not sure whether Windows App development is the right thing for you or if you just want to get a feeling for the tooling, technologies and the development process you should attend my Windows Store Apps development workshop which is offered as in-house training.
Windows Apps will soon be availabe on most office workstations. Learning how to develop it is a great opportunity to be at the fore front to deliver compelling user experience. Don't miss it!