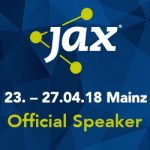 Between the 23th and 27th April 2018 JAX will be taking place at Rheingold Halle in Mainz.
On the 23th I am going to give a presentation about the way agile companies turn ideas into valuable software in a short time and how this differs from classic requirements engineering practices.
On the 24th I am going to show how agile teams build high quality software. I'll cover techniques and principles that help to ship software increments to the customer after every Sprint.
You can see the timeslots on the JAX website. I look forward to seeing you there.