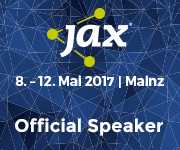 Between the 8th and 12th May 2017 JAX will be taking place at Rheingold Halle in Mainz.
On the 8th I am going to give a presentation about Agile trends, myths and best practices. . In this talk I will show why Agile is the way to go and what it actually means to work with Agile rather than just applying Scrum or Kanban rules.
On the 9th I will share insights from a banking projekt in 2016. This technical talk will show how to combine current architectural patterns such as sustainable service orientation, process automation and business rules to create an architecture that evolves around people.
You can see the timeslots on the JAX website. I look forward to seeing you there.